Congratulations Leonardo! You are OUR Valentino!
Click for larger view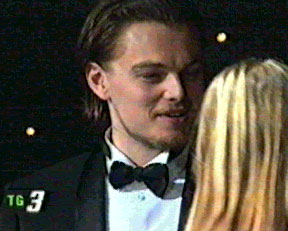 View clips of the event thanks to Susanna/Chris and Judith on this page! What a TREAT!



Leonardo DiCaprio Receives Valentino Award in Rome - from Leonardo's Official Home page

Leonardo, along with legendary director Martin Scorsese (who is currently directing "Gangs of New York"), and famed Italian actress Virna Lisi, received the Rudolph Valentino Awards 2000 in a ceremony at the Cavalieri Hilton Hotel in Rome on January 27, 2001. One of the most prestigious events in the Italian film community and attended by many of its most prominent members, the ceremony received enormous international media attention.

The Valentino awards, which are gold statuettes created by the Italian sculptor Aurelio Mortet, are given each year to a director, an actress and an actor "whose talent and charisma have carried them, like Valentino, to the pinnacle of worldwide success." This year, the international jury decided that the award should go to the leading Italians in the world of cinema.

The following were Leonardo's remarks after receiving the Valentino Award.

"Good evening everyone, I first want to start off by thanking Rafaello Fitto, the President of the region of Puglia, where Mr. Valentino was born, and Carlo Apollonio, President of the Rudolph Valentino Award. And also a special thanks to the distinguished jury of tonight's event.

As you may have guessed, my name, DiCaprio, is a distinctly Italian name coming from my father. But what you probably don't know is that my middle name, Wilhelm, is German.

Now, that of course is because my mother and grandmother, who are here tonight, are both native to Germany. Now the reason that I raise this point is because as a child I had the wonderful opportunity to spend many summers in my Grandparents' home in Germany, learning about the culture, the people, and even picking up some of the language.

Now even though my whole life I grew up with such an obviously Italian name, so Italian in fact, that starting out in this business, I was strongly advised by agents and managers to change it to the Americanized Lenny Williams; simultaneously insulting both my Italian and German heritage, I nonetheless stayed with my real name Leonardo Wilhelm DiCaprio and was always extremely proud to be of Italian heritage. But to be honest, I never really understood what that meant, until now. Living in Rome for the past five months, I have been struck by the passion of the people, the beauty of the art and culture, and of course the ever-continuing impact that Italian history has worldwide. But what it all comes down to and what impressed me most of all is the overwhelming pride that we Italians take in who we are. And that is shown to me everyday by the Italian professionals I work with at Cinecitta, and is also why this award means so much to me.

Now one other thought that occurred to me just today as I was walking through some of the museums here in Rome, was looking at works of art that have endured for hundreds and hundreds of years. Yet they are still as captivating and relevant today as they were during the time they were created. It made me realize how young our art - film really is. And it made me think about how our art form will progress over the next 500 years, only time will tell. What will people think when they look back at the work that we are creating? One thing I do know is that as the history of our industry unfolds, there is one filmmaker whose work will positively last through the ages. That is another Italian-American you are honoring here tonight and someone who I have the distinct privilege of working with here in Italy, Mr. Martin Scorsese.

Also a congratulations to the wonderful Virna Lisi. And thank you again for this very, very special award.

Grazie"


Thanks to Gabi of the German Leo Message Board for these wonderful stills!